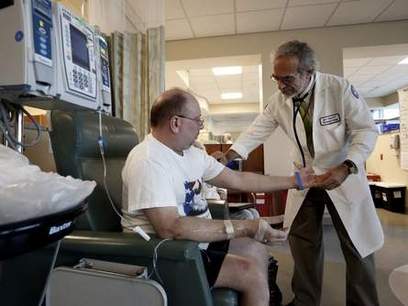 Dr. Jan Moreb, right, visits with patient Jerry Fadely, Erica Brough/The Gainesville Sun
Dr. Jan Moreb, a Multiple Myeloma Specialist from Shands at the University of Florida was the subject of a Gainesville Sun article which highlighted his myeloma treatment program. Kristine Crane a staff writer at the Gainesville Sun provides an excellent article which highlight the superior survival rate and life expectancy of the patients under Dr. Moreb's care. Kristine interviewed the editor of Myelomasurvival.com as part of this article, and we were very pleased to be part of this excellent article. You can find the entire article at this link:
http://www.gainesville.com/article/20130106/ARTICLES/130109795?p=1&tc=pg
Kristine providing the following explanation of the treatment philosophy of Dr. Moreb, She explains, "
He is known for a more conservative approach to treating patients by using chemotherapy drugs sequentially instead of all at once."Since cancer cells typically become resistant to chemotherapy, by exposing them to drugs one by one, instead of all at once, there is a greater likelihood that the effects of the drugs will last longer," Moreb said.
Some specialty centers around the country employ the drugs all at once, but Moreb said that not only increases patients' drug resistance in the case of relapse, which is typical in myeloma patients, it also heightens patients' exposure to the toxic side-effects of the drugs, which can be fatal.
Multiple myeloma patients also typically undergo one stem cell transplant — in which healthy bone marrow stem cells are extracted from the patient's bloodstream and re-injected or transfused back into the bloodstream — after the chemotherapy has killed as many of the cancerous cells as possible.
At some centers, patients automatically undergo two transplants, just a few months apart. Moreb collects enough stem cells for two transplants but freezes the cells intended for a second transplant, which is performed only if the patient relapses, he said. This more moderate approach saves patients from experiencing too much too soon, he said."
Best regards and may God Bless your Myeloma journey/ Gary Petersen editor@myeloma survival.com