Pat Killingsworth, a tireless patient advocate, put together a program to provide a fun, information packed, educational opportunity to help patients and caregivers come up to speed in their myeloma journey. It is now in its 4th year and will be on March 3-5 in Fernandina Beach, Florida. You can get the details for the meeting at the Myeloma Crowd web site if you
CLICK HERE
.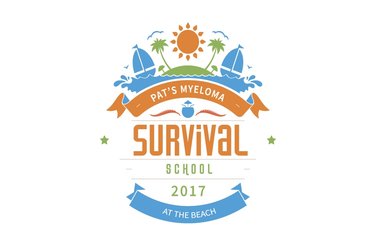 Last year we had hundreds of participants from all over North America and from all over the world. Probably the best way to present the value of this event is to let you know what it meant for a visitor from Sweden.
"Last year round this time I was surfing the Myeloma sites looking for inspiration. I was in a bad place, feeling low and with my blood results showing an increase in my M-Spike, an increase of 26% every 6 weeks. I knew I was heading for my 2nd SCT by the fall of 2016. I was in a bad place because I was not happy with my doctor here in Sweden. I was in horrible pain and not being taken seriously, like he didn't believe Myeloma was the cause of the pain. Just sent me on different tests that showed nothing except it was possible Myeloma related... I then heard about Pat Killingsworth's Myeloma Survival School. A Myeloma patient get together, a place like no other group meeting. It was a weekend where I could get connect with Myeloma doctors, true Myeloma specialists, Myeloma nurses, Myeloma caregivers, the latest research and pharmaceutical information. This is what I needed the information and inspiration to take back control over my life with Myeloma. I registered even before checking flights and Hotels. Well folks the rest is is all about me surviving my second Stem Cell Transplant and having a record recovery time. Today is day 79 since my High dose chemo, 78 days since my 2nd SCT, 60 days since I was released for hospital. This is all because I came home from Pat's Myeloma Survival school confident enough to sack my doctor, find a Myeloma Specialist in a Cancer Centre 20 km from where I live and started to understand this terrible disease that is killing so many of us, but most of all to win. I class myself a winner a Myeloma warrior! I have plans in my life, plans to travel to help people and live. Okay I still have myeloma but I'm not scared any more! I am not in the dark! So one of the plans is I will be returning to the 4th Multiple Myeloma Survival School on Friday the 3rd March until Sunday 5th March. I'm hoping to meet lots of fellow Cancer Warriors to tell my and hear their stories. Here's the link to your survival, see you there!
Pat passed away a month before the last get together, his wife and close friends soldiered on not to disappoint people and to carry on Pat's legacy. Thank you guys, you saved my life…."
Good luck and may God Bless your Cancer Journey. For more information on multiple myeloma survival rates and treatments
CLICK HERE
and you can follow me on twitter at:
https://twitter.com/grpetersen1